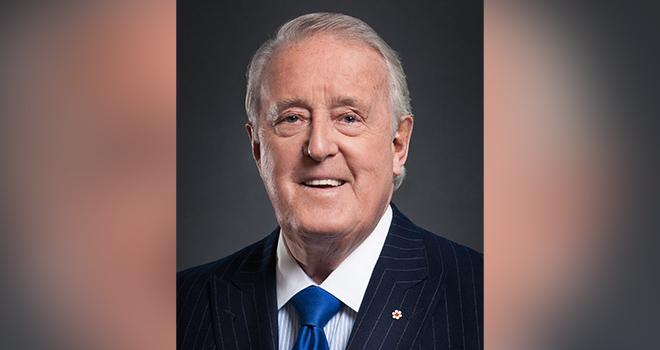 The Right Honourable Brian Mulroney
April 25, 2022 @ 4:00 pm EST
In September 1984, Brian Mulroney led the Progressive Conservative party to the largest victory in Canadian history, becoming Canada's eighteenth Prime Minister.
Became the first Prime Minister in 35 years to win successive majority governments and the first Conservative Prime Minister to do so in 100 years.
His government introduced bold initiatives:
Canada- U.S Free Trade Agreement
The North American Free Trade Agreement (NAFTA)
The Canada- U.S Acid Rain Treaty and the Canada-U.S. Arctic Cooperation Agreement.
A wave of Privatizations
A low Inflation policy
Historic tax reform
Extensive Deregulation and expenditure reduction policies that continue to be the basis of Canada's impressive economic performance today
He was the architect of the Meech Lake Accord in an attempt to include Quebec in Canada's amended Constitution
He served as Co-Chairman of the United Nations World Summit for children
His government played leading roles in the campaign against apartheid in South Africa and the creation of Le Sommet De La Francophonie, the Reunification of Germany and the first Gulf War
Present Work:
He is chairman of the Board of Directors of Quebecor inc. (Montreal), and serves as a director of The Blackstone Group L.P. (New York) and acreage Holdings Inc. (New York)
He serves as Chairman of the International Advisory Board of Barrick Hold Corporation (Toronto.
He is a strategic advisor to Teneo Holdings (New York) and the ECN Capital (West Palm Beach).
Trustee of the Montreal Heart Institute Foundation and the International Advisory Board of Hautes Etudes Commercials (HEC) Montreal.
Awards and Honours:
Awarded Canada's highest honour, Companion of the Order of Canada (1998) and the highest honour of Government of Quebec, Grand officier de l'Odre national du Quebec (2002)
Presented with the Global Citizen Award by the United Nations Association in Canada (2001)
Received the Woodrow Wilson Award for Public Service and the Christian A. Herter Memorial Award for his leadership that contributed to "better international understanding."
Received the George Bush Award for Excellence in Public Service in 2018
Delivered the eulogy at the funeral of President Ronald Reagan at the National Cathedral in Washington (2004) and one for President George H.W. Bush in the same venue (2018) becoming the first non-American in history to be so honored.
Received the highest recognition from the following governments for his leadership in vital matters affecting their nations
Haiti- Grand Croix de L'Ordre national Honneur et Merite (1994)
Ukraine- Order of Kniaz (King) Yarslav the Wise, First Class (2007)
South Africa- Supreme Companion of O.R. Tambo (Gold) (2015)
France- Commandeur de la Legion d'honneur (2016)
Rosenberg Research ©2023 All Rights are Reserved