View Our Full Menu
We provide a wide range of research and strategy products, covering the global economy and financial markets — aimed at providing clients with a guidepost for how to invest their money. You have the choice of either purchasing the Premium package at a steep bundled discount or creating your own customized package of individual products.
Daily Reports
Delivered to your inbox every morning to start your day

Early Morning with Dave
Provides a synopsis of the key market-moving events and data that were released overnight and includes Dave's thoughts on how the day ahead will evolve from an investment perspective.

Breakfast with Dave
Actionable investment ideas based on our proprietary models. The report covers a wide range of asset classes and sectors and will help investors identify shifts and opportunities in the investment landscape.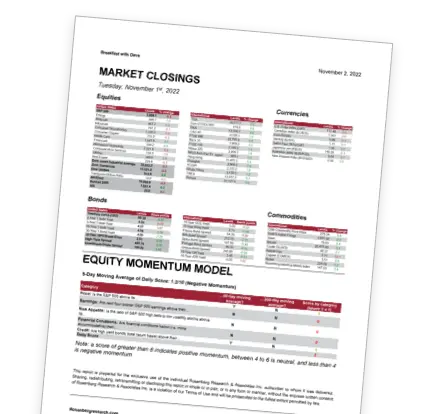 Get Dave's
Flagship Report
Breakfast with Dave
Download Sample
Not Sure Which Subscription Is Right For You?
Take a quick survey to discover recommended products
Weekly Reports
Tailored to the Active Investor

Weekly Buffet with Dave
The Buffet is exactly as advertised: a compilation of actionable investment ideas, pulled from the past week's Breakfast with Dave daily reports.

Appetizer with Dave
A quick synopsis of the most important economic and financial market developments and their implications, derived from the past week's Early Morning publications.

Technicals with Dave
A series of charts and analysis across various equity markets, sectors, fixed income, commodities, and currencies.
Monthly Reports
Digging deep into market analysis

Strategizer
A monthly model-driven report, well suited for active investors. The Strategizer is an effective risk-management tool, providing scorecards and expected future returns for global stock markets, equity sectors, bonds, commodities, and currencies.
The Complete
Investor Guidebook
All Included
with Premium
The whole suite of products bundled into one low-cost package — our best value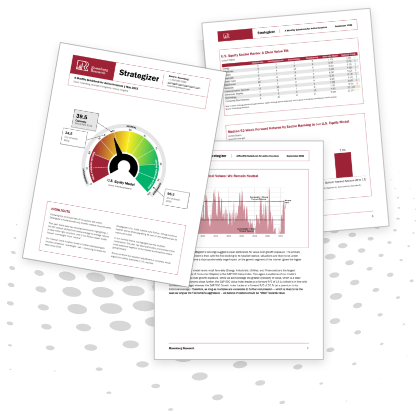 Creative Insights
A bird's eye view on global economic and financial trends

Special Reports
Dave and his team of economists and strategists publish in-depth reports that tackle important secular themes which will shape the future of investing.

Webcast with Dave
Dave is joined by industry and market thought-leaders, to share their views on the investment landscape and the economic outlook.

Deep Dives and Market Movers
This event-based report offers analysis of breaking news and/or data releases that are affecting the markets and your investments in real time.
Charts with Dave
Those who have seen Dave's slide presentation in person know that his material is unique and informative. The charts are forward-looking and each one has an actionable investment theme.
Get Access To The Entire Menu
Go Premium or Select a Custom Package
The prime objective at Rosenberg Research is to provide thoughtful economic analysis and investment recommendations.
We cater to all types of investors; from the institutional to the individual.

Testimonials
"David Rosenberg is one of the world's most experienced and meticulous observers of global financial markets. If anyone is going to spot the next crisis before it engulfs us, it will be 'Rosie,' who has an uncanny sixth sense especially when it comes to reading the U.S. economy. He also offers the kind of insight, based on decades of hard work, that is never going to be replaceable by an algorithm. I have long admired his approach, and never cease to learn from him."
"David Rosenberg's work excels in breadth, depth, objectivity and usefulness. He incorporates the messages of market movements into a solid academic framework to formulate concrete, actionable investment advice. A succinct description of the value of his work was given by Dave himself in one of his widely read "Breakfast with Dave" memos: "What investors need most….is a detective, not a cheerleader." Rosie fills that void."
"Dave Rosenberg is one of the best observers and analysts of the economic and investment scenes. His daily reports contain a wealth of information on the U.S., Canadian and foreign economics, including important but often overlooked developments. While most Wall Street seers are paid to be bullish on economics and stocks, Dave is one of the very few to take negative stances when backed by hard evidence. His unbiased perspective is especially important to investors today as global recession looms but is not yet discounted in security markets."
"From his perch in Toronto, David Rosenberg provides uncanny insights into the world's economies and its markets. His often out-of-consensus market calls have proven to be money makers for all of us. Even though I have been doing strategy work for more than half a century, I always learn something from David's work."
"David Rosenberg's greatest attribute is not his mind, as formidable a piece of analytical equipment as it is. Nor is it his superlative forecasting record, as enviable as that is. His greatest attribute is rather his heart. He forms his views without fear and without favor, and he is unshakable when he thinks he's found the truth, which he so often does."
"I have followed David's research for decades and have constantly found it to be honest, informative and thought-provoking. His greatest contribution for me is his ability to take his economic wisdom to a completely different level for investors, one that helps guide them in their financial decision-making process."
"It has long been my observation that the best use for economists and their forecasts is to find out when they all agree and become a consensus. Then at least you know what is least likely to happen. Dave Rosenberg is an exception. He takes strong positions against consensus thinking and is not afraid to dig deep in support of his arguments. Like any of us, he may not always be right or sometimes too soon, but his thorough analysis has been on the money often enough to make his ideas provocative and well worth listening to."
"David Rosenberg is an outstanding economist who has shown a keen insight into the US and global economy for three decades. His abilities to see through the maze of conflicting and inherently volatile economic statistics has been demonstrated time and again. He possesses a tremendous intellect. His prodigious work ethic explains his willingness to dig as deep as necessary to discover relevant facts in an increasingly complex economic environment. Not only is his analytical approach of the highest order, he is a tremendously capable and strong presenter of those views. David is prescient, well-reasoned and flexible. Words are insufficient to express our admiration for his one-of-a-kind research."
"There are only a handful of economists I follow, and David Rosenberg is one of them. He is one of the few whose views I can actually invest around. Most of all, I admire his courage in often going against the consensus forecast, and based on my own experience over the years, he is a voice worth listening to."
"In a business where most economists work backwards from the conclusion they believe will be most well-received, David isn't afraid to say what he believes. A beacon of intellectual integrity, his conclusions are based purely on his analysis of the data — an analysis, which after years of experience, is second to none."
"David's research is a must-read for me every morning. His willingness to take a contrarian view, always backed up with hard data, is valuable for anyone interested in seeing around corners."
"Dave is both an incisive and creative analyst. He does not waste time treading over the obvious, which makes him unique and valuable."
"David is a reliable voice with years of experience and wisdom. Listen."
"I have found many of Dave's reports to be insightful and quite compelling."
"I have had the pleasure to work with David for 10 years. His depth and breadth of knowledge on economics is impressive. He is always a draw at conferences and clients are always very interested in hearing his views on both the economy and markets."
"David Rosenberg is an independent minded, thoughtful and sometimes provocative observer of the world around us. His commentary offers insights often missed by others and arms the reader with important information on which to base investment decisions."
Get Actionable Investment Strategies from Dave
and his Team at Rosenberg Research